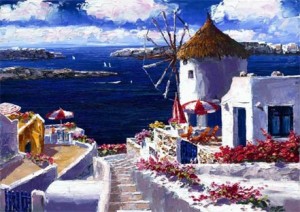 Okay. Okay. Before we even start, we are going to acknowledge that the motivation for buying art should not be to bring out the lines of the new coffee table you bought, or to look good hanging over the fireplace mantel. Our artist friends don't really care for the art-as-interior-design-prop, leaning towards the understandable belief that their creations should stand on their own; adorning walls because they make an impact, not because they match the throw pillows. But let's face it, as we spend an inordinate amount of time in and around our homes, it is important to a number of us to not only enjoy the art we collect, but to have it enhance, and not detract from or clash with, the rest of our decor.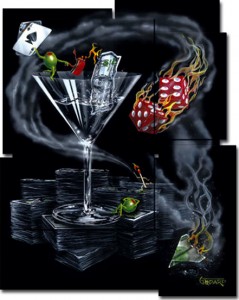 Without encouraging the practice of searching for paintings for sale as if they were just another tchotchke to add to match the drapes, the following techniques are listed by Houzz as ways to strategically incorporate art into your decor:
Create repetition. Bring the strong colors and lines that attracted you to a piece through to your textiles and furniture forms and let the entire room work together to replicate the emotions within the art.
Increase impact. Feel especially fond about the cerulean blue color within your favorite painting? Bring that color into other surfaces around the room to draw attention to it more fully.
Follow form. Add vases or accessories that mimic and accentuate shapes within a painting or sketch. Placed on the wall just above the items, both pieces will complement each other, increasing visual impact.
Balance color. All designers will preach about the importance of "splashes of color". Bring the vibrant swatch within a painting and mimic it with a touch here in a pillow or a touch there in a lighting fixture or accent furniture piece.