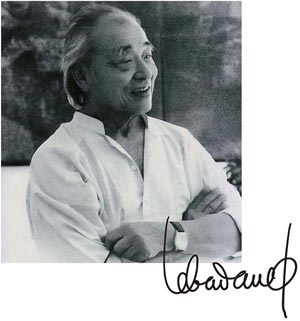 LEBADANG
1921 – 2015
Lebadang was born in 1921 in Bich-La-Dong, a village along the Huong River in Quang-Tri Province of Hue, Vietnam. He immigrated to France in 1939 to study at the Ecole des Beaux-Arts in Toulouse and had his first one-man show in Paris in 1950. Over the next thirty years he gained prominence throughout France and Germany. In 1966 the Cincinnati Art Museum hosted his first one-man exhibition in the United States.
He was given the first annual award of the International Institute of St. Louis called the Lebadang Award in his honor. It is to be bestowed each year to a particular individual for achieving "peace within yourself, your country, the world."
Lebadang blends the cultural interests of the Orient and Europe, creating graceful imagery in infinite variations of line, shape, and color. Lebadang is recognized as an accomplished printmaker, having worked extensively in the media of etching, lithography, and serigraphy. He achieves harmony with a minimum of colors.