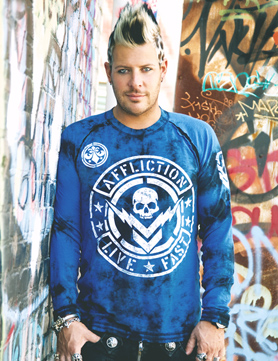 The art world is now recognizing DeRubeis as "The Father of Conceptual Movement."
DeRubeis' paintings bring to you the world of celestial abstraction that captures colored soaked light that appears to spring from De Rubeis' art. With his soft lines, he weaves together forms of metal sculpture and paints to make his composition flow in harmony. Each work is a unique original as DeRubeis uses structures and waves of light to build weightless, diaphanous forms. Colors flow seamlessly from one hue to the next, while the transparency of his layers of paint creates the illusion of incredible depth.
It all began when Santa Clarita native Chris DeRubeis started drawing and painting with his grandfather on the weekends. What started as a love of art and a special grandfather-grandson relationship turned into an avant-garde artistic movement that has taken DeRubeis around the world. Still based in the Santa Clarita Valley, DeRubeis has galleries in Las Vegas, Key West, Maui, Scottsdale, and Puerto Rico, in addition to being featured in 30 galleries in the United States, Canada, and the United Kingdom. 
His humble beginnings included a stint as an airbrush artist at Six Flags Magic Mountain when he was 16. To put himself through school at the Pasadena Art Center and the Associates in Art College, DeRubeis painted custom motorcycles and started a party t-shirt business. He was only in his 20s. As DeRubeis' artistic style developed, he became tired of working with traditional paint and canvas. His experience painting motorcycles led him to experiment with metal, altering the surface to create different light interactions. To describe his art, DeRubeis came up with the term 'Abstract Sensualism.' "When I was looking at my work, it just made sense to me," he said. 
There isn't one set definition of the term, but it was DeRubeis' best way to describe the emotions evoked by his art. When he first started marketing his artwork to museums and galleries, DeRubeis said that most gallery collectors shied away, because it was new and different. But now, in galleries all over the world, DeRubeis is thankful for the opportunity to share his art with people who didn't consider themselves art-lovers: 
"A lot of the people that buy (my work) are first-time art collectors," he said. "They never had an interest in art or thought art was cool." Going forward, DeRubeis said that he might expand into metal sculptures or metal jewelry, "I don't know exactly what the future might hold yet, but I'm still experimenting." 
Ultimately, DeRubeis said that the most rewarding part of what he does is what he went through to be successful.
"(It's) just all the struggles of trying to do it all myself and seeing the positive outcome toward the end," he said. "Seeing the reaction of people, in the end, makes it all worth it."
No products were found matching your selection.