Press Release Information: Fabio Napoleoni
Meet Fabio Napoleoni on Saturday February 13th 2016
Village Gallery – Irvine Spectrum
510 Spectrum Center Drive (Near Edwards Cinema)
Irvine, CA 92618
What the Heart wants and the Heart needs can be found in a Fabio Napoleoni painting.  Nostalgia, sorrow and moments that lift the soul are all there for the world to see and experience along with him. The vivid colors and captivating characters invite you into an emotional ride that is welcomed by the mind and the Heart. Simple landscapes set the stage to the value of emotional attachment that can be compared to no other. Influences from some of this century's greatest artists are hard to find in his pieces, but are drenched deep in the fabric of what puts a Napoleoni painting together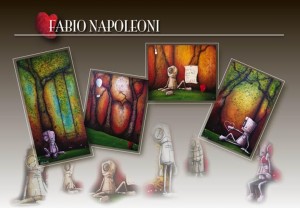 It all started in Ponce, Puerto Rico 1972 . . . Every child loves to spend time playing outside, but this was not an option for Fabio. From birth the artist suffered from asthma so horrific that several times a week he needed allergy shots to prevent severe asthma from consuming him. Many days and weeks were spent on the family sofa surrounded by art supplies given to him by his mother. An artist herself, she noticed that creating art came much easier to her son that it did for her. So, during the times that asthma overwhelmed him, she felt compelled to supply his creative side with the tools to create.
Many events influenced Fabios' artwork but none more than the traumatic events that followed the birth of his second child. His daughter, born with major heart abnormalities, had to face several surgeries to correct issues that could prevent her from having a future. Overwhelmed with his daughter's issues and surrounded by an emotional sea of sorrow from other parents in the same situation, Fabio grew. While his wife and daughter slept, Fabio wondered the halls of the Children's Care Unit looking for a spot where he could sketch out his personal thoughts. From these thoughts a new form of creativity was born. The doors to Fabio Napoleoni's Heart were now opened for the world to experience.
It took a traumatic experience for Fabio to realize what he was missing in his work . . . Emotion. He had all the ingredients to create but none that captivated the soul. With his new ideas and old sketches in hand Fabio added the last ingredient needed . . . Emotional Experience.
With his vibrant and bold use of colors along with many of his characters, Fabio has managed to create an emotional value to art that has been missing. His paintings could have a thousand titles and every one would be fitting of the image he has created; but one thing is for sure, you will always find a beautiful Heart in every piece of his work. A symbol of his love for his daughter . . . she lives today and