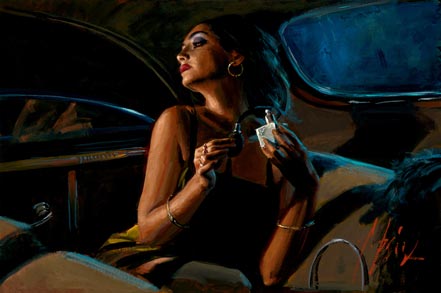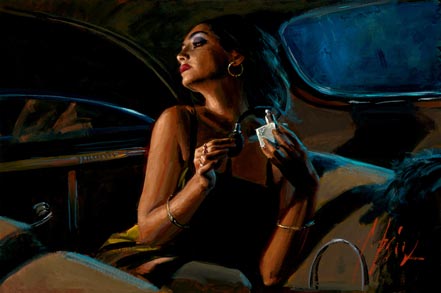 Influenced and guided by his mother and inspired by his father, Fabian Perez was almost destined to be an artist. Born the youngest of four children to Edua and Antonio Perez, Fabian learned the craft of painting as a result of his mother's tutelage and found his subjects within his father's lifestyle. By the age of nine, Fabian was using watercolors and tempura paints to create portraits of his family and friends. But it is through his father that Fabian will find his muse.
As owner of several illegal brothels and nightclubs in Campana, Spain, Antonio Perez exposed his youngest son to what would later serve as his artistic subjects – the "women of the night", their customers and the mysterious lifestyles they led. Fabian found himself endlessly fascinated by these women who cared for their bosses youngest son with warmth and friendship, creating in him an affection for these ladies – which would later inspire him to portray their beauty in his paintings as endlessly seductive, yet vulnerable. Fabian Perez paintings often portray these women in flattering ways, often in the nighttime atmospheres that he often experienced within those bordellos of his childhood.
After losing his mother at the raw age of 16 years old, young Fabian suffered another blow when just three years later he experienced the death of his father. It was after these devastating and life-altering events that Fabian looked for both answers and strength through martial arts. It is with the guidance of his mentor, Sensei Oscar, that Fabian is able to achieve what is referred to in martial arts as the Muga, or the "empty mind". According to Perez, it is in this state that he is able to allow the purity of his creativity to flow.